TRAINING GROUP FAQ's
My son is new to volleyball, can he still play at Bay to Bay?
---
Yes! Bay to Bay has multiple groups at each level. We cater to a wide variety of playing experience and skill levels, from beginners to returning National Champions.
---
What is the roster size of training groups?
---
Roster sizes for each training group is 12 players. This is in line with our local county guidelines of "stable groups" of 12. Stable groups means that athletes can only participate within their one assigned training group (i.e. no mixing with other groups or different programs) Bay to Bay will carry approximately 15 groups in age divisions from 12 and under up to 18 and under.
---
What is the schedule for training groups?
---
Our training groups will have two indoor volleyball practices per week. We will also be offering additional virtual training options throughout the week that players can subscribe to. These include: Monday: Strength & Conditioning, Tuesday: Leadership overview & Book Club, Wednesday: Setters Practice, Friday: Film Review. This allows athletes to supplement their group training with specific areas of focus that interest them.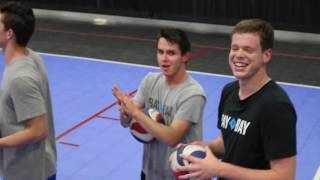 ---
Will practices be indoors or outdoors?
---
We will be practicing at LEMO/The Foundry in Redwood City for all of our training groups. This will allow our teams to have consistent practice schedules as well as the ability to add skills practices if guidelines allow. Bay to Bay Volleyball Club has moved to San Mateo County for the time being. Santa Clara County has restrictions on 6 v 6 indoor volleyball. If anything changes in San Mateo County due to government restrictions, we will convert those indoor sessions to the outdoor training (grass and beach). We also have a number of school facilities (Harker, West Valley College, Willow Glen) that have prioritized our facility use once they are allowed to resume outside rentals.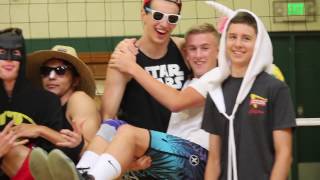 ---
How do you determine the participation age of an athlete?
---
Our governing body, USA Volleyball defines the particiaption age of athletes using the following chart. Please note that age definitions were adjusted to be a July 1st cut-off.
---
What does it cost to play?
---
Training groups will be $350/month. If/when USA Volleyball and the Northern California Volleyball region announce a competition schedule then we will formalize teams. Dues will be adjusted to account for the new training competition schedule.
---
Do I need to apply each month?
---
No, you do not! We will be forming groups at each age and level to train for the 2020-21 year. Applications must be received by August 2nd at 12 pm. Our staff will be forming groups, reviewing applications and contacting players accordingly. Athletes may apply to join groups after August 2nd and will be contacted if an opening becomes available at any time.
---
Where do I apply to join?
---
All applications are completed online using our registration form. As a reminder, applications must be received by August 2nd at 12:00 pm to be considered for our training groups. Have a question we did not answer? Shoot us an email at hello@b2bvolleyball.com
---
What are your COVID-19 prevention methods?
---
We have a complete action plan available to view on our website here. This overviews our athlete, parent, and coaches guidelines as well as facility specific information. Highlights include:
Stable groups of 12 (mimimize exposire to multiple groups)
Masks for all coaches (current San Mateo County guidelines do not require athletes to wear masks whereas Santa Clara County does)
Time buffers between practices to remove crossover between groups
Temperature checks and health screening prior to sessions
---
---